West Bengal NEET-UG State Quota, Management Quota & NRI Quota Medical, Dental e-Counselling and first time introduction of Online MopUp round and Centralized College Level admission Process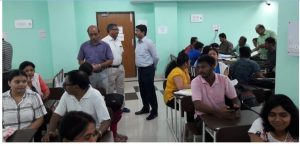 NIC-West Bengal has become the first State to introduce the 'Online MopUp round module and Centralised College Level admission process' in line with the direction of Hon'ble Supreme Court in the existing counselling application. The entire process of ICT based MopUp and College level rounds have been designed/ developed and implemented successfully in recently conducted 'Under Graduate Medical/Dental Counselling 2019' by NIC West Bengal. This ICT based solutions have been provided considering all its criticality, complexity as per the requirement of the user department in shortest possible time within the predefine time schedule.
NIC West Bengal has been associated with the process of development, customisation and implementation of the e-Counselling application software for online State Quota, Management Quota and NRI Quota Medical & Dental Counselling for the past eight years in the state of West Bengal. Different rules are applicable for each Counselling conducted by different user departments. The software application requires major customization in the event of changes in the State Government rules and regulations and any other necessary requirements alterations by the user department every year.
The proposed e-Counselling has simplified one stop solution for all the participating institutions and their end-to-end solution right from Pre-Counselling which pertains to submission of application form, online verification of submitted forms and documents by the verifying authority, real time acceptance and rejection of forms, on-line fee payment, Display of category-wise Seat Matrix module, selection of courses/institutes, document verification, seat allocation, publication of result/reports, generation of provisional allotment letter by candidate, online document verification and admission in the allotted institution etc.
The Mop up module consists of the following functionalities:
Display of real time seat availability in the central Mop up hall.
Allotment of Mop up seats ( Including Allotted, Hold & Decline)
Initialization of Mop-Up data if needed.
Seat Conversion during Mop Up round as per Govt. rule.
West Bengal e-Counselling Transaction Parameters
Year-2019
Transaction Parameters UG Medical-2019
Total NEET Data approximately 15Lakhs
Total Online applications received 12218
Total Online payment received 11318
Total Registered Candidates 9860
Total Admitted candidates after final round 3851
Total Participating Institutes 29
NIC, West Bengal Counselling team has been working hand-in-hand and close coordination with the Central Counselling team at NIC, Hqrs. and getting all kind of support from the central counselling team.