Visit of The Principle Secretary, IT & E, GoWB to NIC, West Bengal State Centre and meeting with NIC Officers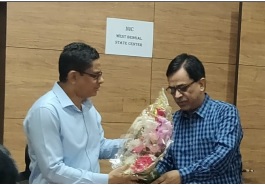 Mr. Rajeev Kumar, IPS, Principal Secretary, IT & E, GoWB visited NIC, WB State Centre on
18/02/2020. He was welcomed by SIO WB along with other Senior NIC Officers. After the
introduction of NIC Officers, a presentation was given by SIO highlighting the NIC's setup in
West Bengal, Services being given wrt Internet, eMail, Video Conferencing, Data Centre and
also elaborated the contributions of NIC in major & flagship eGov projects of GoWB.
Thereafter, NIC Project Heads demonstrated the salient features and other important aspects of
the respective project being coordinated by them. Primarily, following projects were covered in
the presentationa) CMO's Public Grievance Monitoring System (Office of the Chief Minister)
b) e-Aabgari (Directorate of Excise, Dept. of Finance)
c) Kanyashree (Dept. of Social Welfare & Women and Child)
d) Banglar Siksha (Dept. of School Education)
e) Utkarsh Bangla (Dept. of Technical Education)
f) Khadyasathi (Dept. of Food & Supplies)
g) Banglar Bhumi (Dept. of Land Records)
h) e-Nathikaran (Directorate of Registration and Stamp Duties, Dept. of Finance)
i) e-Trackchild (Dept. of Women & Child)
j) GepNIC (Dept. of PWD and all other departments)
k) e-Office (All departments and directorate of GoWB)
l) Jaago (Dept. of Self Help Groups & Self Employment)
m) e-Prison (Directorate of Correctional Homes, Dept. of Home)
n) e-Vahan & e-Sarathi (Dept. of Transport)
The Principal Secretary advised on the use of new technologies and emphasized on
productisation and documentation of the projects and making the products more user friendly
for common citizen. He assured that IT & E Department, GoWB will work in synergetic manner
with NIC towards induction of advance technologies in the e-Governance activities.
SIO suggested to establish Centre of Excellence (CoE) by the Department of IT, GoWB with
technical support of NIC for adoption of new technology i.e. Data Analytics Tools, Block Chain,
Business Intelligence and AI etc. particularly in the projects like eAbgari, Land Records & State
Budget allocation wherein huge databases have been built. It will not only be helpful in making
predictive analysis but also for future planning. Such technologies shall be of immense
importance in Education & Social Sector too. He also suggested that IT department may arrange
for projections of impact of various projects at different forum and acknowledge the contribution
of NIC. SIO also suggested to issue advisories on regular basis to various departments to make
them aware about the benefits of new technologies in the eGovernance projects.
At the end, the Principal Secretary acknowledged and gave high appreciation for the efforts and
contribution of NIC WB in bringing many state govt. projects to the level of highest success. He
shared that IT & E Department will prepare an eGov. Roadmap, in consultation with NIC, for
coming years. He also assured to look into the suggestions of SIO and emphasized on having
such meetings more frequently.
At the end, SIO WB paid thanks to the Principal Secretary for visiting NIC WB State Centre and
spending nearly 2 hrs. with NIC officers and sharing his views.